SWEN is made of two parts: the browser add-on you see and interact with, and a server that gathers data and makes it available to the browser add-on. Let's look at each of these pieces in detail.
Settings
The browser add-on has a settings screen that allows you to adjust your news tolerance, and toggles to turn on or off certain websites completely. Use the slider to control the number of articles that filter through.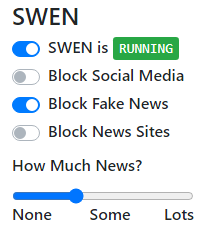 Use the toggles to turn off or on news, social media, or fake news sites.
Use the master toggle to Pause or Resume SWEN.
Browser
When you go to a site, say bbc.com, SWEN checks to see if it is one of 10,000+ news organization sites. If it is, SWEN queries the server component to see what news stories are available for that site and above your news threshold setting. Any matches are displayed as list of links, in this case, from bbc.com. Clicking on a link takes you to the actual page on the site.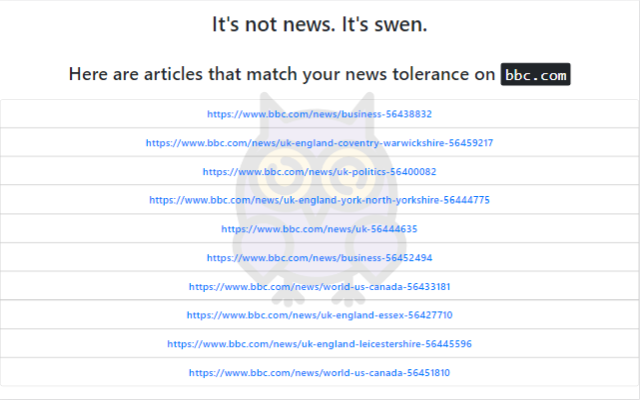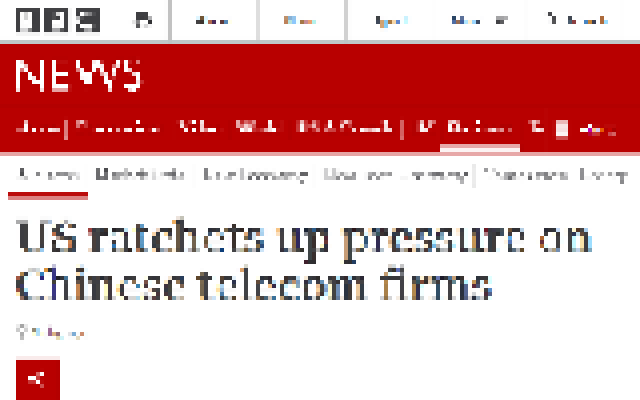 If no articles from the site match your threshold, you see an empty list.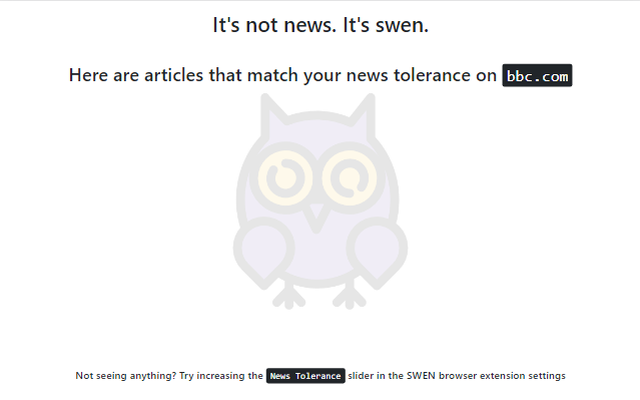 Server
The SWEN server gathers data every 15 minutes from the GDELT Project:
A Global Database of Society
Supported by Google Jigsaw, the GDELT Project monitors the world's broadcast, print, and web news from nearly every corner of every country in over 100 languages and identifies the people, locations, organizations, themes, sources, emotions, counts, quotes, driving our global society every second of every day, creating a free open platform for computing on the entire world.
GDELT gathers and classifies news data into 'events'. Every article from over 10,000+ news sites is crawled and assigned an event. We analyze this data and assign a score based on a consensus algorithm. When a user visits, say, bbc.com, the browser requests data from the server for that URL, and news tolerance setting. If there are any matches, the browser displays them as a list of links that take the user directly to that article on the news site.